Harpdog Brown…the Man, the Myth and the Legend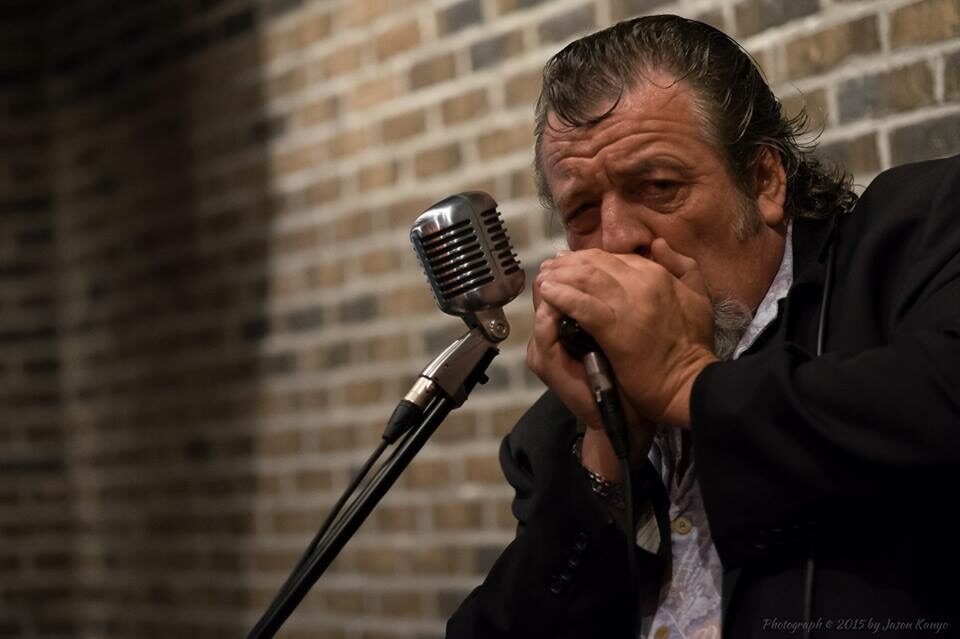 Think of the old Chess Records and Sun Records of the late '40s and early '50s.
These days he's been touring with a new show called Harpdog Brown & the Uptown Blues Band – a vintage New Orleans Blues sound featuring slide trombone, keyboards, and often a sax and clarinet. Still a vintage vibe, just a different vintage! This music will move you! They perform mostly originals yet they often include great songs of the masters from that era. Think Louis Jordan, Satchmo, Sonny Boy Williamson, Wynonie Harris, even Duke Ellington. Audiences are raving about this new show!
He's been called a Blues Evangelist, and that's a very fitting moniker. "I speak the blues like it's the truth, and it is", he was recently quoted. "I do feel like I'm a servant of the people. A missionary if you will. Music can heal people if they pay attention to the messages in these songs." He delivers those messages using the vintage sound whether it be with his lowdown classic blues band the Travelin' Blues Show or with his Uptown Blues Band. Harpdog says "Blues has a healing power. It's a beautiful celebration of our perfectly flawed lives. We help people forget about their issues of the moment and then they realize that we all have our issues, and that's OK." 
Vancouver-based Harpdog Brown is a gifted vocalist and an imaginative harmonica player born in Edmonton in 1962. An adopted child, he has felt somewhat detached his whole life – "a lifelong battle of not feeling like I belonged. I feel like I was born for the circus, you know, born to travel. The blues tapped me on the shoulder years ago and said 'this is where you belong, son'. So the blues became my circus and there's no better way to travel than with a band!"
Harpdog has won three consecutive Maple Blues Awards for Harmonica Player of the Year (2014/2015/2016), the Fraser Valley Music Award, has three consecutive Western Canadian Music Awards Nominations, a Juno Nomination and is the only Canadian to win the coveted Muddy Award. In 2016, he was nominated for 3 Maple Blues Awards (Harmonica Player, Male Vocalist and Album of the Year) for his latest release Travelin' With The Blues. Travelin' With The Blues released in 2016 is still sitting in the top roots and blues charts and follows his Top 20 charting 2014 release What It Is (Roots Music Report International Blues Albums). The awards and accolades continue as he was recently nominated for Best Blues Band by the Washington Blues Society (2019)!
Over the years Harpdog, yes that is his real name as his passport will attest, has issued 7 CD's to critical acclaim.  Back in 1995 his Home is Where The Harp Is won the coveted Muddy Award for the Best North West Blues Release, from the Cascade Blues Association in Portland.  He is still the only Canadian to do so.  A Juno Nomination for the best Blues Release in Canada followed that same year.  Teamed up with Graham Guest on piano, his CD Naturally was voted #1 Canadian Blues Album of 2011 by The Blind Lemon Survey.
The album that delivered his first Maple Blues Award, titled What It Is, maintained status in the blues and roots charts throughout the year and in fact was ranked #20 worldwide Roots Music Report: Top 100 Blues Albums of 2014.  Two songs on that album, Whiskey Bottle and In My Younger Days remained in the TOP 100 Songs for that same year.  It is a great collection of live, off the floor originals and a few well placed covers that resonate well with blues fans of every vintage.  Harpdog's original How Come is a fan favourite and earned regular rotation on BB King's Bluesville on SiriusXM.
He was again awarded with the Harmonica Player of the Year at the Toronto Blues Society's Maple Blues Awards for 2015.
2016 Saw the release of Travelin' With the Blues which features a duet with Charlie Musselwhite and guest appearances from blues heavyweights Kid Andersen (Rick Estrin), Big Jon Atkinson (Kim Wilson) and others.   All but two tracks were recorded at Bigtone Records using vintage analog tape and sounds like something from the old Chess Records catalogue.  It's pure authentic blues.  As Charlie Musselwhite says "Harpdog's got a smokin' band playing and he's singing the real deal, old school blues just like you want to hear it.  I LOVE the killer guitar playing!"   Two tracks were recorded at Andersen's Greaseland Studios.
Harpdog was honoured with his third consecutive Maple Blues Award for Harmonica Player of the Year as a result of that album. In fact he received nominations for Album of the Year and Male Vocalist of the Year as well. Add to that a second consecutive nomination for Blues Artist of the Year by the Western Canadian Music Awards.  These are outstanding accomplishments that clearly solidified his rise in popularity and a new beginning in his career.
"Making Travelin' with the Blues was one of the most amazing experiences I've had in my life.  To have my dear friend Charlie Musselwhite cut a track with me made the whole experience a dream come true."
His relentless touring schedule means a life on the road and that's just fine by Harpdog. He just released an outstanding album that blends that Chicago Blues sound with New Orleans Blues giving the world a fresh take on the blues with his original tracks and a few carefully selected covers. For Love & Money is a refreshingly different approach for Dog, as his friends all call him. It hit the Living Blues Album Charts at #6 and the Roots Music Report at #2 on the Classic Blues Charts and # 2 in Canada. 
As Harpdog recently put it, "After more than 30 years of blood, sweat and tears, it feels like I'm just getting started.  I'm only 57 – that's young in the blues world!"
Born in Edmonton, Alberta and based in Vancouver, British Columbia, he's crossed tens of thousands of miles playing club dates and festivals in Canada,